Event
15 novembre 2022
How to successfully invest in North Africa – Focus on Morocco & Algeria
How to successfully invest in North Africa – Focus on Morocco & Algeria
At the 8th edition of the TICAD (Tokyo International Conference on African Development) held in August, more than 90 Memorandums of Understanding related to business cooperation were signed between private and public entities of various countries of the African continent and Japanese companies.
Given the increasing interest of Japanese companies to develop their business in Africa, LPA-CGR avocats in partnership with the Japanese Chamber of Commerce and Industry in France (CCIJF) were pleased to organise a seminar on « How to successfully invest in North Africa – Focus on Morocco & Algeria » which took place on November 15th, 2022 in Paris.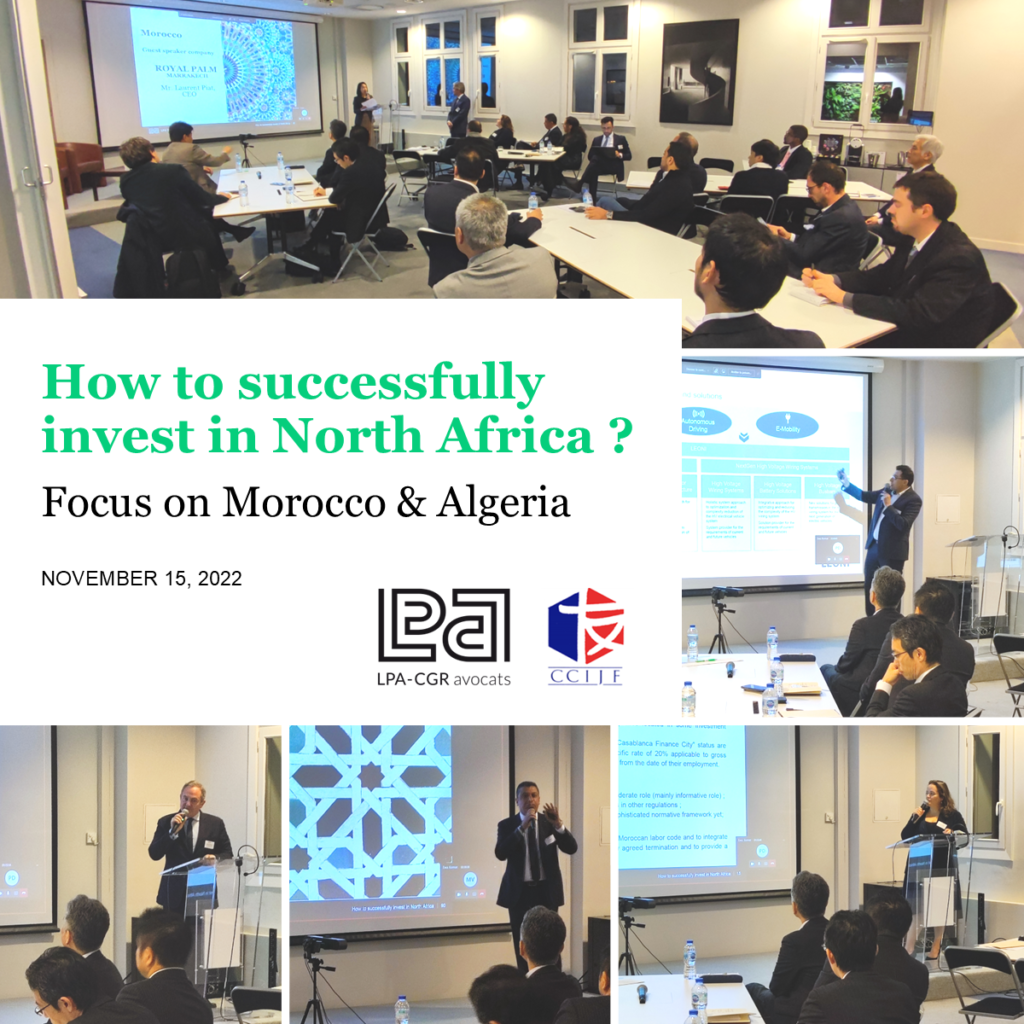 The current regulations in labor and tax laws, as well as the incentive measures put in place to promote foreign investment in Morocco and Algeria were presented by the lawyers from Paris, Casablanca and Algiers offices of LPA-CGR avocats (Romain Berthon, Sophie Marinier, Lina Fassi-Fihri, Samir Sayah, Marc Veuillot, Majda Hachemi, with moderation by Airi Tozaki).
Feedback from North Africa and tips for success were then presented by our 3 guests:
Laurent Piat, President of Royal Palm Marrakech
Tarik Safi, Vice-President of Leoni, Head of Renault-Nissan-Mitsubishi accounts
Lyes Boudiaf, President of Isly Holding
We would like to thank our speakers and participants for their presence and the quality of the exchanges which continued during the cocktail.